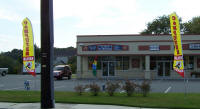 Business Hours
Monday - Friday 10am to 6pm
Saturday 10am to 4ish
Closed - Sunday
(302) 226-5424


Delaware PC Services, LLC Best computer, PC and MAC repairs in Delaware, located at 20660 Coastal Hwy Rehoboth Beach Delaware in the Sea Coast Center, Always FREE Evaluation No Appointment Necessary. Open 6 days a week. Virus and Spyware Removal only $69.99.
| | | |
| --- | --- | --- |
| | MOTOROLA SB6121 SURFboard Cable Modem RJ-45 $89 | |



Replace your existing cable modem,
that you pay monthly for just
out of stock


Best Rated Cable modem replacement:

• Easy to Set Up and Use: -Plug and play installation -Front panel LEDs indicate status and simplify troubleshooting -Multi-language user guides -Supports standard internet software -User-friendly online diagnostics

• Efficient: -Stylish and space-saving enclosure -Offers innovative, high-bandwidth data and multimedia services to customers -Backward-compatible to DOCSIS/EuroDOCSIS 1.x and 2.0 -Earth-friendly

• Advanced Services Ready: -DOCSIS 3.0-certified (EuroDOCSIS 3.0-based) -Channel bonding of up to 4 downstream and 4 upstream channels -1 GHz capable tuners -Supports IPv4 and IPv6 to expand network addressing capabilities

Note: monthly rental fee for your current cable modem is from $5 to $10 a month added to your current bill - replace your existing modem and it will pay for itself in less than 1 year.

| | | |
| --- | --- | --- |
| | TP-LINK TL-WR541G $49.99 | |




Easy to install Wireless G Router
with build in 4 port switch
out of stock


The TL-WR541G 54Mbps Wireless Router integrates firewall, NAT-router and Wireless AP. The design is dedicated to Small Office/Home Office (SOHO) Wireless network solution. The TL-WR541G 54Mbps Wireless Router will allow you to connect your network wirelessly better than ever, sharing Internet Access, files and fun, easily and securely.

With the most attentive wireless security, the TL-WR541G 54Mbps Wireless Router provides multiple protection measures. It can be set to turn off wireless network name (SSID) broadcast so that only stations that have the SSID can be connected. The Router provides wireless LAN 64/128/152-bit WEP encryption security, and WPA/WPA2 and WPA-PSK/WPA2-PSK authentication and TKIP/AES encryption security. It also supports VPN pass-through for sensitive data secure transmission.

The TL-WR541G 54Mbps Wireless Router complies with the IEEE 802.11g/b standards and adopts 2x to 3x eXtended Range™ WLAN transmission technology so that transmission distance is 2-3 times that of traditional 11g/b solutions, up to 855.36m tested in China. Transmission range is extended to 4-9 times. It is compatible with all IEEE 802.11g and IEEE 802.11b products.

| | | |
| --- | --- | --- |
| | CISCO / Linksys E1550 Wireless-N Router with SpeedBoost $65.00 | |




Wireless N Router with Speedboost,
built-in USB port allows you to share an external storage device or printer
out of stock


Cisco - Linksys E1550 Wireless-N Router with SpeedBoost and USB Port

The Linksys E1550 combines fast speed (up to 300 Mbps), extended range, and amplified signal strength to offer enhanced performance for everyday wireless activities. A built-in USB port lets you add external storage and printers* to share files across your network. A MIMO antenna array provides expanded range for your wireless network, and SpeedBoost technology increases signal strength across greater distances for maximum wireless coverage and in-home mobility. WPA/WPA2 encryption and SPI firewall help keep your network protected. Plus, included Cisco Connect software gets you set up in three easy steps and offers powerful tools for ongoing management of your network.
| | | |
| --- | --- | --- |
| | Rosewill RNX-N360RT Wireless N Router Up to 300Mbps Data Rates $45 | |



Great Wireless N Router
$45/ in stock


The Rosewill RNX-N360RT wireless router offers you a great choice for connecting multiple computers to Internet or building a small Local Area Network at your home or office. You desktop PCs and laptops can share the Internet connection wirelessly or through 4x Gigabit Ethernet ports. Enjoy the peace of mind with an array of security features that promises maximized network protection you can rely on. SST dramatically increases link robustness and stability. CCA improves wireless performance while automatically avoiding channel conflicts. Use parental control function to manage the internet access of children or employee's computer. Auto-mail function for system log is convenient for managing the router.
| | | |
| --- | --- | --- |
| | Rosewill RNX-N300X Draft 2.0 PCI Wireless N Adapter | |



Great Wireless N PCI Adapter
$49.99/ in stock


Features:

- MIMO technology for Ralink 2 Transmit antenna 3 Receive antenna solution

- 802.11 b/g/n supports throughput up to 300 Mbps upload and download

- Multiple BSSID and WMM, WMM-PS support

- Compatible with Windows 2000, XP (32/64 bit), Vista (32/64 bit), Win7 (32/64 bit); Mac 10.3/ 10.4/ 10.5

| | | |
| --- | --- | --- |
| | Rosewill RNX-N250PCe PCI-E Wireless N Adapter | |



Great Wireless N PCI Adapter
$35.99/ in stock


Features:

- Complies with IEEE 802.11b, 802.11g and 802.11n standard for 2.4GHz Wireless LAN
- Compliant with PCI-E Standard
- Supports Windows XP/2003/Vista/7/8 and Linux Kernel 2.6.x
- Supports MIMO technology with 2x Transmit and 2x Receive.
- Lower power consumption
- Easy installation and configuration
- Support WPS

| | | |
| --- | --- | --- |
| | Belkin PCMCIA Wireless Notebook Adapter | |



$29.99/ in stock

Features:

Includes G Wireless Notebook Card, User Manual on CD-Rom, Quick Installation Guide, Installation Software CD

32-bit CardBus Interface

Network Standards: IEEE 802.11g / 802.11b

Security: WiFi Protected Setup, WPA, WPA2, 64-Bit, 128-Bit WEP encryption

OS Support: Windows 2000, XP, and Vista
| | | |
| --- | --- | --- |
| | LINKSYS POWERLINE AV KIT WITH WI-FI | |



$129.99/ in stock

Includes
•Linksys PLWK400 Powerline AV Wireless Network Extender Kit
•1 Linksys PLE400 Powerline AV 1-Port Network Adapter
•1 Linksys PLW400 Powerline AV Wireless Network Adapter
•Quick install guide
•CD with setup software and resources
•2 Ethernet cables

TECHNICAL SPECIFICATIONS

Model: Linksys PLWK400
Standards: Homeplug AV 200 Mpbs, WiFi, WPS
Bands: 2.4 GHz
Switch Port Speed: 10/100
Ports: 1 each unit
Buttons: WPS, Pairing/HomePlug, & Reset
LEDs: Powerline, Ethernet, Wireless, WiFi Protected Setup, and Power

| | | |
| --- | --- | --- |
| | D-LINK POWERLINE AV+ MINI ADAPTER STARTER KIT | |


$59.99/ in stock

•Performance - Up to 200Mbps for reliable, everyday performance
•More Coverage - Extend your existing wired network through your home's electrical wiring
•AV+ Advantage - Up to 35% faster than standard PowerLine AV 200
•Scalable to your Needs - Easily expand your network with additional PowerLine adapters
•Simple Setup - Quickly setup your PowerLine adapters with the push of a button

| | | |
| --- | --- | --- |
| | NETGEAR GS108 8 PORT GIGABIT SWITCH | |





out of stock

Features:

Speed 10/100/1000Mbps Gigibit Ethernet
Datasheet (PDF) GS108 Datasheet
Number of Ports 8
PoE ports n/a
Total PoE Budget n/a
Loop Detection n/a
Short cable power saving n/a
Energy Efficient Ethernet Support (IEEE802.3az) Yes
Jumbo Frame Support Yes
Queue WRR Ratio 1:2:4:8
MAC Table Size 4K
Packet buffer size 192KB
IEEE 802.1p QoS Yes
Dimensions (WxDxH) @mm 158x101x27
Weight (kg) 0.52
Max Power Consumption 4.9W
Max Operating Temperature 50C
MTBF (hours) 1,044,500
FCC Class B
| | | |
| --- | --- | --- |
| | NETGEAR GS108 8 PORT GIGABIT SWITCH | |





$34.99/ in stock

Features:


- Adopts Green Ethernet technology with ability to detect cable length with best adjust power consumption
- Non-blocking switching architecture that forwards and filters packets at full wire-speed for maximum throughput
- Supports MAC address self-learning and auto MDI/MDIX
- Store-and-Forward switching method
- Supports IEEE 802.3x flow control for Full Duplex mode and backpressure for half-duplex mode
- Plastic case, desktop or wall-mounting design
- Background Bandwidth: 10Gbps
- External power adapter supply
- Forwarding Rate:

10BASE-T: 14880pps/port
100BASE-TX: 148800pps/port
1000BASE-T: 1488000pps/port
| | | |
| --- | --- | --- |
| | EnGenius EAP350 Extra-Long Range Wireless-N and Gigabit AP/WDS/Repeater | |





$169.99/ in stock





Wall Power or POE







Spec
Standards IEEE 802.11b/g/n, IEEE 802.3/3u/3ab, 802.3af PoE

Wireless Data Rates Up to 300Mbps

Security WEP Encryption - 64/128 bit
WPA Personal (WPA-PSK using TKIP or AES)
WPA Enterprise (WPA-EAP using TKIP)
802.1x Authenticator
SSID broadcast enable/disable
MAC Address Filter(AP mode)
WLAN L2 isolation(AP mode)
Wireless STA (Client) connected list (Idle/Connection Time, Pkt statistics)

WPA/WPA2 WPA2

Frequency Band 2.4GHz - 2.484GHz

Channels 11 Channels

Antenna Embedded omnidirectional antenna (5 dBi)

Receiver Sensitivity 802.11b (2.412 ~ 2.472 GHz) best <= -98 dBm
802.11g (2.412 ~ 2.472 GHz) best <= -93 dBm
802.11n (2.412 ~ 2.472 GHz) best <= -93 dBm

Modulation OFDM: BPSK, QPSK, 16-QAM, 64-QAM
DBPSK, DQPSK, CCK

Interface Ethernet Port

LEDs Power/Status
LAN (10/100/1000Mbps)
WLAN (Wireless connection)

Buttons Reset Button

WAN Ports 1 x 10/100/1000M

Power Adapter Power Supply: 90 to 240 VDC +/- 10%, 50/60 Hz (depends on different countries)
Active Ethernet (Power over Ethernet, IEEE802.3af)
48 VDC/0.375A
Device: 12V/1A

Dimensions Diameter: 4.73" (120mm)
Height: 1.97" (50mm)

Weight 0.62 lbs. (280g)

Temperature 0°C - 50°C (32°F - 122°F)

Humidity 90% Maximum, Non-Condensing

Features Gigabit wired, Business Class Indoor High-power Long-range 800mW (29dBm) Wireless-N Access Point/WDS Bridge/WDS AP with Smoke Detector Housing and 802.3af PoE Support
MCU/RF: AR7242+AR9283
Memory: 32 MB
Flash: 4 MB
Topology: Infrastructure/Ad-Hoc
Operation Mode: Access Point/WDS Bridge/WDS AP
Multiple BSSID: Supports up to four BSSIDs
LAN: IP (check validity and DHCP server IP range) MAC
DHCP Server: DHCP range, lease time, client list
VLANs Supports:
802.1q (up to four VLANs)
SSID to VLAN mapping
Spanning Tree: Supports 802.1d Spanning Tree Protocol
VPN: VPN pass-through (PPTP, L2TP, IPSEC)
QoS: WMM
WPS: Software only
High-power, Long-range Wireless-N
Wireless-N up to 6x Speed over Legacy 11G Networks
SSID to VLAN Mapping
802.3af PoE Compliant
| | | |
| --- | --- | --- |
| | 6 Inch Power over Ethernet (PoE) Cable 2pcs/set | |


$12.99/ in stock

•Includes adapters for both ends
•Allows Cat5 cables to carry power and 10/100 data simultaneously
•Combines DC power input and network data jack on one end.
•Splits out DC power connector and network data jack on receiving end.
•Pass-thru power
•Maximum range for power: 100ft-130ft
•Typical applications include IP cameras and other devices that require power and network connection
•Pinout Data: wires 1, 2, 3, 6
•Pinout Power: wires (4 & 5),(7 & 8)
•Examples of network input: router, computer
•Data Rate: 10/100 Mbps
•Network RJ45 Cable: TIA/EIA 568 Cat5/5e
•Standard 2.1mm DC jack
•2 pair wires for data and 2 pair wires for power

Example:
| | | |
| --- | --- | --- |
| | ENGENIUS EOC-5610 802.11a/g Outdoor High Power 600mW Bridge / Access Point with Dual Antennas | |


$95.00/In Stock

HIGH 600mW WIRELESS POWER
Ensures robust signal to overcome long distances
Offers superior WiFi coverage than leading brands

802.11a/b/g DUAL BAND SUPPORT
Provides 2.4GHz or 5GHz wireless frequency
Operates in 5GHz band to avoid interference from 802.11b/g network devices
802.11a offers more wireless channels than 802.11b/g

HIGH GAIN DUAL ANTENNA DESIGN
Embedded 13dBi (802.11a) / 5dBi (802.11b/g) panel antenna with external antenna connector RP-SMA
High gain antenna for wireless power up to 41dB EIRP in 802.11a band
Perfect for both Point-to-Point & Point-to-MultiPoint applications
Upgradeable antenna to increase range and receive sensitivity

SIGNAL STRENGTH LED INDICATOR
Allows network installer for easy deployment

MULTI-FUNCTIONAL DEVICE
Offers multi operation modes for different network topologies
Modes: Access Point/Client Bridge/Client Router

POWER-OVER-ETHERNET (24V POE) CAPABLE
Power and data over one single cable for convenient installation
Less heat dissipation to ensure reliable performance
Capable of 300 feet PoE cable length
Power Injector Included

INTELLIGENT QUALITY OF SERVICE (QOS) TECHNOLOGY
Facilitates bandwidth priority for VoIP, video streaming, online gaming

In Stock

Various Colors Available - if we don't have it, we can get it!

Lengths from 1' to 100' or custom made

Prices vary with size
| | |
| --- | --- |
| | |