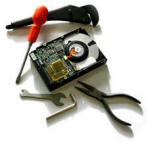 We have the ability to recover
and even copy running hard drive
that are failing to new drives without data loss. The sooner you bring the system in, the better the chances of a full recovery or transfer for a failing Hard Drive.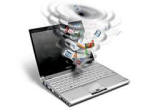 Hard Drive Failure:

In the event of a 'Hard Drive' failure, there are different levels of Failure. Many cases a hard drive may be recoverable or data recovered and transferred to a new hard drive with minimal or no data loss. If you are told or suspect that your hard drive is failing - the quicker you stop using it and bring it in for a free evaluation - the bester the chances of full data recovery or hard drive copy can be done.
Deleted Files:

Delaware PC Services have the ability to recover deleted data that was intentional, accidental, or due to a failure removed from your current media. Whether it is a Hard Drive, Flash Card, and/or USB drive. Bring your media in today for your free evaluation.
NOTE: if the item is a Hard Drive - Please bring in the entire unit. In some cases the failure is not the Hard Drive but the system itself, removing the hard drive yourself may increase the chance of damage to the drive.
System no longer Boots up:

When a computer no longer boots up or windows does not start, it is not necessarily a drive failure. We have seen instances were key operating system files have been erased and just need to be replaced to fix this issues. You can bring your system in today to get a free evaluation of the system which allow us to see it is actually a hardware or software issue.
We can recover data from:
- Hard Drives from PC, Laptop, Servers, & Workstations
- RAID drives, even 'broken' mirrored drives
- Memory Cards, such as camera cards - etc.
- USB thumb drives, (undamaged, not broken)

We can recover deleted data from almost any recoverable functioning media, even if you had reformatted the media.